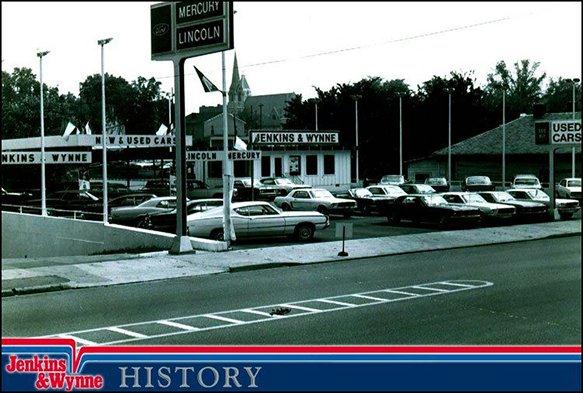 In 1936, at age 26, Vernon Jenkins took over the operation at Barnes Motor Company, the Ford Store located in Hopkinsville, KY. This was because the previous owner, Blondie Wallace, left to run the new Ford Store in Sturgis.
Because of the Draft, Vernon Jenkins joined the Army in 1942. In a letter written home to his friend Aubrey Lyle, Vernon is quoted saying: "If this war is ever over, I'm going to have a Ford Dealership, and I want to us become partners." (Referring to  WWII)
Although Vernon was not yet released from the Army for another two years, he bought his first dealership in Springfield, TN. At the time, he had a choice of two different locations: Jeffersonville, IN or Springfield, TN. He chose TN! In 1944, while still  in the Army, Vernon and friend Will Summers purchased a Ford Dealership and named it Summers & Jenkins Motor Company.
While Vernon was away with Army duties, Evelyn Jenkins, Vernon's wife, chose to work at the store until Vernon got out of the Army. In 1948, he sold that Store, went to Franklin, KY, and he purchased the Ford Dealership there. He talked to MB 'Briz' Wynne,  who was a Feed Salesmen, and encouraged him to go into business. They became business partners and opened Jenkins & Wynne. In the beginning Jenkins & Wynne sold Ford Cars, Ford Trucks, and Tractors. Vernon was living in Springfield, TN at the  time and was driving back and forth. He would call on the farmers in his area and deliver what they needed on his way home.